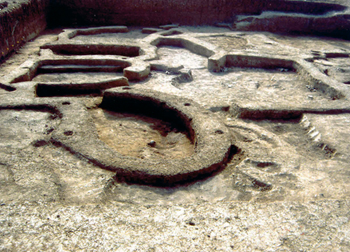 "The work unearthed the remains of hundreds of tombs and ancient settlements from the end of the Copper Age (Chalcolithic or Eneolithic Age, the first half of the 4th millennium BC) right up to the Middle Ages inclusive. These sites were found mainly in Western Azerbaijan, along the middle reaches of the Kur River. From ancient times the favourable geography of the region attracted tribes engaged in agriculture and cattle-breeding.
These finds are evidence of the high development of crafts such as pottery, bone working, stone working, metal working and weaving of the settled agricultural and cattle-breeding tribes. The Soyugbulag barrows, the first barrows of the Copper Age in the whole South Caucasus, are especially important remains of the Leylatepe culture.
Apart from Khojakhan, all the aforementioned Copper Age sites concern the Leylatepe archaeological culture or people. The Leylatepe people emerged in the first half of the 4th millennium BC as the result of the migration of the Ubaid tribes from Mesopotamia to the South Caucasus, especially Azerbaijan. The Leylatepe people were named after the site of the same name in Agdam District which was excavated in the 1980s.
After inhabiting the Northern Caucasus in the second half of the 4th millennium BC, the Leylatepe people became part of the Maykop people. Therefore, the research into the remains of the Leylatepe culture is of great importance in the study of the cultural, economic and ethnic links of the Caucasus and the Middle East.


Some of the barrows discovered and excavated along the pipeline route belong to the Kura-Araxes culture of the early Bronze Age. These barrows date to the final period of this culture, i.e. the third quarter of the 3rd millennium BC."
Baku-Tbilisi-Ceyhan Pipeline Boosts Azerbaijani Archaeology